Government support for retirees in response to COVID-19 & market volatility 
What is changing?
The Government has temporarily reduced superannuation minimum pension withdrawals for account-based pensions by 50 per cent for the current  financial year.
Why the change?
The intention is to offer retirees flexibility during this period of market volatility. Retirees have the ability to leave more of their retirement savings invested and not draw upon assets after a decline in value. This change was also put in place during the 2008 global financial crisis for similar reasons.
Annual payments are calculated on the account balance at July 1.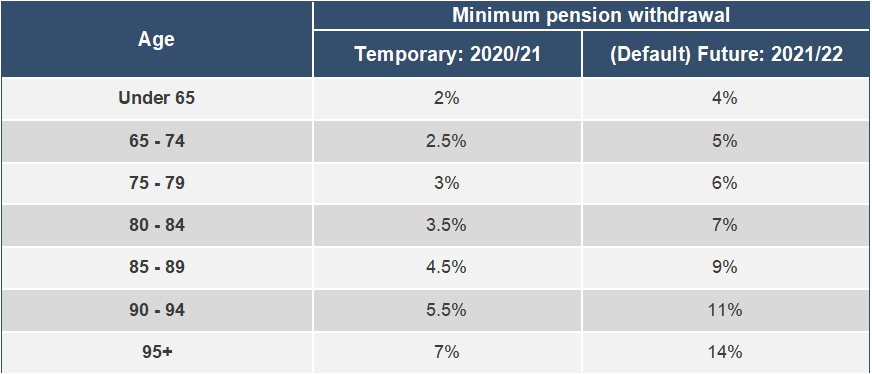 Example
If you have $500,000 in an account based pension and you were 70 years old, previously you would have been required to draw 5% or $25,000. In 2020/21 the minimum would be 2.5% or $12,500.
Who can benefit?
The major beneficiaries of this change will be those retirees who are either flexible with their spending, or alternatively have other assets outside the superannuation environment they can draw upon. If a retiree had certain spending plans (such as travel) that have been affected by COVID-19, it offers the opportunity to leave investments in place and not draw down. As lower account valuations may now mean higher Centrelink payments for many people, there may now be an opportunity to commensurately reduce drawings from account based pensions.
As always, discuss all strategy options from legislative amendments with your adviser.
This article is for informational purposes only and the information contained is of a general nature and may not be relevant to your particular circumstances. The circumstances of each investor are different, and you should seek advice from a professional financial adviser who can consider if particular strategies and products are right for you. In all instances where information is based on historical performance, it is important to understand this is not a reliable indicator of future performance. You should not rely on any material on this website to make investment decisions and should seek professional advice.
Foundation Wealth Planners ABN 84 612 059 622 is an Authorised Representative No. 1242404 and Credit Representative No. 488134 of FYG Planners Pty Ltd, AFSL/ACL No. 224543 ABN 55 094 972 540