Did you miss the top performing company on the ASX in 2017? If so, don't be too disheartened because it's turned into one BIG disaster.
BIG Un Limited, whose main business was its subsidiary, BIG Review TV, was in the business of creating promotional videos. Small businesses were paying $12,000 for the privilege of BIG Review TV making a promotional video to showcase their business online.
BIG, who backdoor listed onto the ASX through the shell of a defunct gold miner, were so successful with sales of their videos that their shareprice zoomed from 23 cents at the beginning of January 2017 to a high of $4.98 by November 2017, giving Big Un a market capitalisation of over $500 million.
This attracted a lot of media attention. Mostly fawning media profiles of the 23-year-old co-founder Brandon Evertz, who was said to have started the business with $500 from his father. That noted bastion of business journalism, FHM Magazine, called Evertz 'the next Mark Zuckerberg'. But BIG Un was far from Facebook.
The Australian Financial Review (AFR) wasn't as convinced, upping their scrutiny of BIG Un. Finding the CEO, Evertz's father Richard, was once convicted of impersonating a police officer and blackmail, as well as separately being found to have made "false and deceptive claims to individuals" by the Federal Court.
Some simple common sense had AFR's Jonathon Shapiro asking questions. What small business would pay $12,000 for a video that could be done for a few hundred dollars? And how were BIG finding so many of these small businesses to pump their balance sheet? It didn't add up, but that cash was appearing on the balance sheet.
This part would elude even the most studious of investors. A finance company was extending credit to BIG on the basis of customers signing up to a 'no obligation' video package. That cash appearing on the balance sheet wasn't in fact from new customers, it came from the finance company every time a customer agreed to a 'no obligation' sale.
BIG was generating these 'no obligation' sales by cold calling small businesses who'd agree to essentially nothing. The other notable point was the finance company had been issued 3 million shares by BIG at a 90% discount to the share price. All these sales based on their extended credit would substantially inflate the value of their shares.
BIG Un's shares have been suspended from trading since February when Shapiro brought this news came to light. Earlier this week things became worst as, BIG Un's subsidiary, BIG Review TV, was put into voluntary administration. The ASX has been investigating (much to its embarrassment), but things aren't looking good for BIG Un shareholders.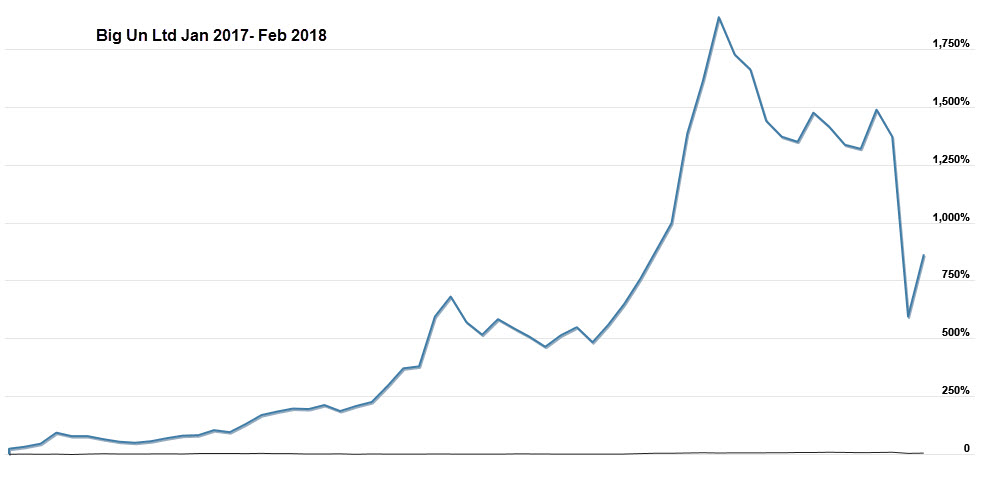 And who are they? Institutional investors are absent from the share register, so it's mostly retail investors who've swallowed a BIG one. These investors were extremely rabid about their support for BIG and incredibly vicious towards AFR's Shapiro for his reporting on their favourite company.
This is always the issue with adding individual companies to a portfolio or just basing a portfolio solely on individual companies. The investor will often form a relationship with the company. They buy into the story being sold and start to fall in love, blinding them when a red flag appears. Instead of rationally assessing the risk, the investor will shoot the messenger if any warning appears. AFR's Shapiro endured a lot of rabid abuse from irate BIG shareholders because of his reports.
Contrast this to a managed fund or ETF. As an example, no one falls in love with Vanguard All-World ex-US Shares Index ETF or Dimensional Two-Year Diversified Fixed Interest Trust. Good luck even remembering their names. They're just investment funds. They provide growth or stability and exist as long-term investment solutions.
There's no sexy story behind them to get excited about. It's just the belief that economies will grow, financial markets will work as a whole and accepting those markets have historically rewarded investors who've participated in them. If you use them, they become part of an investment process that isn't about hope or fast money.
BIG Un shareholders will be licking their wounds and face months to years of uncertainty as the ASX & ASIC play catch up. Anyone with a properly managed portfolio will be getting on with their lives with the knowledge those 1700% gains can quickly be accompanied by 100% losses.
Finally, credit needs to go to the Australian Financial Review and journalist Johnathon Shapiro for pursuing this story. We regularly highlight how the media spends far too much of their time focused on market movements and giving space to investment managers and economists to play astrologer, but when reporters expose this type of malfeasance they should be congratulated.
This represents general information only. Before making any financial or investment decisions, we recommend you consult a financial planner to take into account your personal investment objectives, financial situation and individual needs.