Being the end of the year, it's the time when all the financial and economic predictions for the New Year are flying around. Take your pick, but they'll mostly be wrong or revised mid-year by those who made them so they don't look so bad.
Or they'll be mildly conflicted.
One of the more interesting predictions out there was printed in the Fairfax papers – The Age, Sydney Morning Herald, Australian Financial Review and likely across their regional network.
It was made by real estate group Domain and suggested the following:
Predictions of a deflated housing market in 2016 continue as property search group Domain predicts a 2 to 5 per cent price growth across all capital cities in the new year.
Double digit growth in major housing markets such as Sydney and Melbourne in the last two years will not be repeated, according to the group's latest State of the Market Report.
Sydney prices are expected to grow 4 per cent in 2016 after a near 20 per cent growth in 2015. Melbourne will pick up 5 per cent, after a 12 per cent increase during the year.
But at least the weakest market in 2015, Perth, which experienced price falls, will grow at 2 per cent.
Great news –everyone's houses will continue to, at the very least, keep pace with inflation! And ironic that Domain sees a 'deflated housing' market as one that continues to grow!
What Fairfax didn't bother to tell you was it owns Domain, or more aptly these days Domain owns Fairfax because all of Fairfax's growth is now coming from the Domain real estate advertising division. Nowhere in the article was there a mention of the connection, in fact the article gave the impression Domain was an independent entity.
And what was the main headline for Australia's premium business newspaper, the Australian Financial Review online for December 15?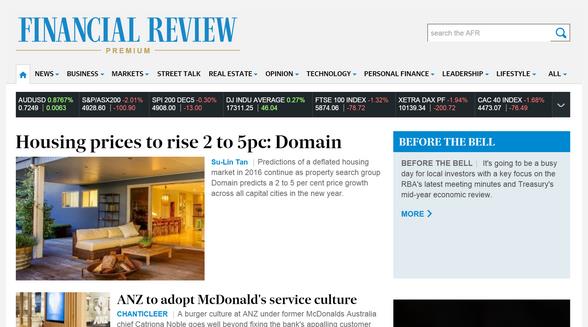 In essence, the company quoted itself that house prices were going to rise, presumably so that its own real estate listing and advertising business can continue to prosper. It's fair to say that it's not news to report your own company's self-interested view on house prices and to disguise it as news is even worse.
While most of the predictions for 2016 will be foolish at worst, this one is probably the most underhanded you'll see
This represents general information only. Before making any financial or investment decisions, we recommend you consult a financial planner to take into account your personal investment objectives, financial situation and individual needs.